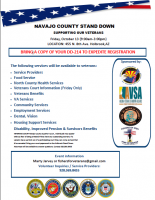 Bring a copy of your DD-214 to expedite registration
The following services will be available:
Veterans Court information
Veterans benefits
Food service
North County Health Services
VA services
Community services
Employment services
Dental, vision
Housing support services
Disability, improved pension, and survivor benefits
Court services - individuals may appear without fear of being arrested if they have any outstanding warrant. If a veteran has a warrant out of a participating court they can come and ask that it be canceled. Bring your court paperwork to the Holbrook Stand Down. Attorneys will be available to answer questions.
For more information call (928) 369-8455 or email This email address is being protected from spambots. You need JavaScript enabled to view it.